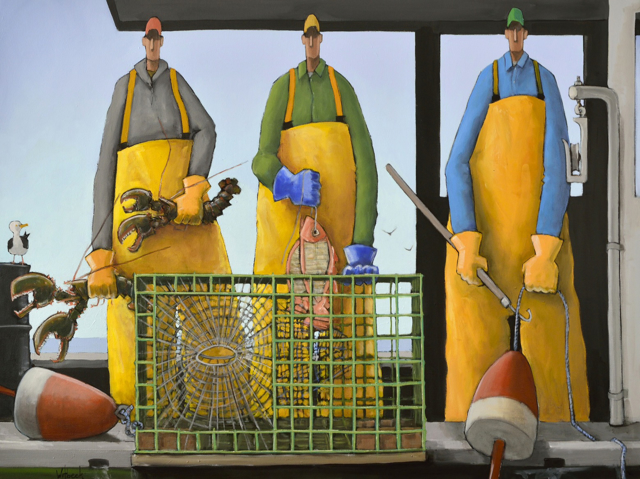 May 28, 2016 - Jun 16, 2016
David' Witbeck's show of new works opens at 10 a.m. on Saturday, May 28th at Maine Art Paintings and Sculpture, 14 Western Ave. in Kennebunk. Join us Saturday evening from 5 - 7 for the Artist's Reception!
"In the first 18 years of my life, I probably spent no more than three or four weeks on family vacations anywhere near salt water. And yet, for some reason, I always drew pictures of fishing boats, lighthouses and stormy seascapes, and read every sea story in the school library. In 1980 I moved from western New York State to Rhode Island to be near salt water and, coincidentally, to finish my long interrupted college education at RISD. After graduating from there I worked as a free-lance photographer for over 25 years. Photography, though a great documentary medium, doesn't interest me as an expressive medium.

In 1991 my wife and I met Leo Brooks, a painter, who was working on Monhegan Island that summer. I loved his childlike drawing, bold colors and complete disregard for objective reality. I hadn't painted since 1968 when I dropped out of Pratt Institute, but Leo's work struck a chord and started me thinking about painting again. Ten years later, thirty-two years after quitting art school, the need to paint finally overwhelmed me and I signed up for a continuing ed painting class at RISD.

Having been a photographer for three decades, the greatest joy I have as a painter is freedom from "reality." I'm no longer limited by what is in front of a camera. I can bend, twist, stretch, exaggerate and simplify the things I see. I can put things in and leave things out. I can even completely make things up. I can paint how things make me feel instead of simply what they look like.

I'm most pleased when my paintings evoke smiles. Humor is an element too often missing in art. Having come back to painting relatively late in life I now understand that Art need not be earth-shakingly profound. Putting together a collection of lines, shapes and colors that add some order, brightness and humor to a world too often crazy, dreary and grim is not an unworthy pursuit or insignificant achievement. Enjoy."
- David Witbeck