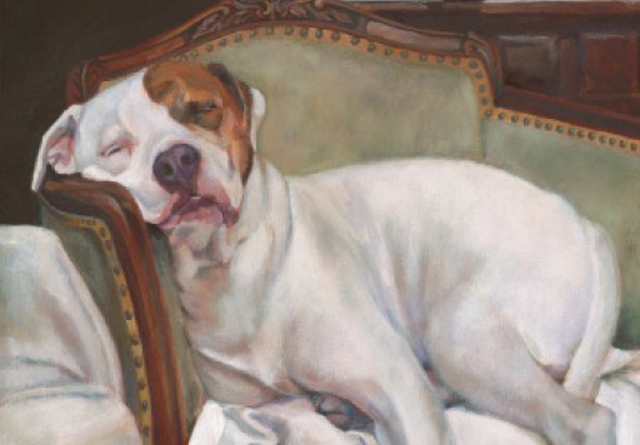 Sep 27, 2018 - Oct 08, 2018
A show by renowned portrait painter Gloria Najecki. This year's show is a collection of past commissions that the owners have generously lent to the gallery for this special show so that you can see the paintings up close and personally. The level of quality and emotion she captures is nothing like we've ever seen. Next year's show will be comprised of the commissions made this year. We are currently selling commisions and there are four tiers of options. If you are interested in learning more about the commissions, please inquire by calling 207-967-2803 or emailing [email protected]

COMMISSION PACKAGES:

TOP DOG $20,000 Only one package sold per year
We all know a Top Dog when we see one – whether they are 19 lb or 250, this animal simply knows how to take up space. Given that, a Top Dog requires a portrait that makes a big statement. The Top Dog portrait is a custom-cut size up to 36 in by 48 in. (That means, it's even big enough to include a couple of canine friends. Because sometimes what makes the Top Dog a Top Dog is having its own entourage.)


LUCKY DOG $12,000 Only three packages sold per year
The Lucky Dog is a winner at life. Whether they own their own custom bed or couch, or managed to appropriate yours, they simply know how to make the best of everything. At a custom size up to 24 in by 36 the Lucky Dog portrait can comfortably fit a detailed background of one of your pooch's favorite places to hang out (and may even include a canine or human friend that is equally lucky to be their friend).


SPOILED ROTTEN $6,000 Only four packages sold per year
The Spoiled Rotten girl or a boy can steal your favorite chair, chew your designer glasses, and redecorate your living room from tufted pillows to a sea of down feathers – all the while captivating your heart (and immediate forgiveness). For the pet that has you wrapped around their paw, the Spoiled Rotten portrait, at 18 in x 24 inches, can comfortably fit a full body portrait (either sitting, lying down or curled up in a favorite chair). The background can also suggest a special place and may even include a favorite toy.


BEST FRIEND $4,000 Only four packages sold per year
When the story of who this animal is to you is expressed most deeply in the eyes, then the classic 12 in. by 16 in. Best Friend portrait provides just the right fit. Without need for background and environmental details, this classic head-and-shoulder portrait (or a full body painting of a smaller dog) is perfect.