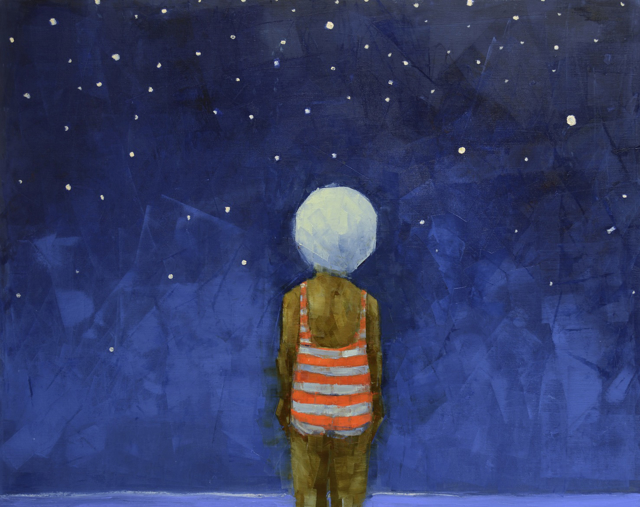 Jul 23, 2016 - Aug 11, 2016
The nationally acclaimed paintings of Rebecca Kinkead have arrived in the Kennebunks. Her love of animals, children in motion, and the outdoors is celebrated in this one-woman show at Maine Art Shows in Kennebunk. Whether you are a collector, or viewing her work for the first time, this dynamic show is an intimate step into the heart of the artist. She is her work. She will be the first to say that as she grows as a painter, she grows as a person.
"I want my work to welcome you in. It's open. Art should be a portal for your own stories," says Kinkead. "The most important thing for me is to be authentic. I tap into the direct link between my gut and the canvas."
Kinkead has been painting professionally since 1999, finding increasing success in galleries across the United States. Her work has no geographic constraints. She captures moments and memories for all.
"I paint energy or a feeling more than depicting something that is perfect. I need it to feel alive, but not necessarily look life-like or photographic," says Kinkead. "I love slinging paint in a way that mimics the actual movement of wind or a wet dog shaking. Somehow the arm knows what to do. It can feel it better than the eyes sometimes."
Her studio in Vermont is surrounded by foxes, owls and songbirds. She claims there is more nature than people. For over a decade, she tried painting wildlife, especially the owls, but struggled to do it in a way that felt authentic. Then she moved to New England. She has flowed with the give and take of nature for seven years, learning the language of these creatures. With this immersion, comes the ability to capture them on canvas.
"The wildlife is abundant. For me, it's the moment I make eye contact with an animal. It's exhilarating. I wonder if they see me as a threat, or if they know better. The connection with something wild, even if it is just for an instant, is so intimate."
That same intimacy connects the artist with her not-so-wild animals. "We hike in the backyard and take our dogs for walks," says Kinkead. Her dogs have quickly become her greatest muse. She has a Yellow Lab, a German Pointer, a Beagle and the possibility of a new puppy soon.
"I have codependency issues with my dogs. I love them so much. They teach me how to live and how to be a better person. Our Beagle in particular could have a party all by herself with a ball of lint," says Kinkead. "I want to be more like that, more in the moment, always finding the joy."
This same joy is on her canvases that feature children. For Kinkead, they are the keepers of memories for us all. Whether wishing on stars or dandelions, there is magic. Her subjects emerge from the paint. The surface appears sculpted rather than painted. "I prefer slinging paint in a way that mimics the actual movement of the wave or a wet dog shaking. Somehow, the arm knows what to do... it can feel it better than the eyes sometimes," she says.
John Spain, owner of Maine Art Paintings and Sculpture, says, "I love the interaction of the medium with the surface of the canvas. There is an energy, a presence in her work. I can see a sculptor in everything she does."
This is not a surprise considering her BA in Ceramic Arts. Once she received her first BA in Political Science from UVM and a Masters Degree in Experiential Learning at Minnesota State University, Mankato soon followed. During this time she found her love of ceramics, adding another degree.
"After I finished school, I moved to Boston. I lived in a downtown apartment which I shared with another person. Large studio space was expensive, so I settled for a 4' x 5' corner of the apartment. Sadly, ceramics need space, and I no longer had any. In frustration, I turned to painting for a creative outflow. I could paint anywhere, and it was so immediate."
After ten years in Boston, and now seven in Vermont, Kinkead has found her space, and with it, her success. "It is such a compliment that people want to live with my work," say Kinkead. "Every piece I sell allows me the time to paint and create and learn. It is a complete circle."
Rebecca Kinkead's show opens at Maine Art Shows, 10 Chase Hill Road, on Saturday, July 23, at 11 am. There will be an opening reception that evening from 5-7 pm. The show runs through Thursday, August 11, and is open daily from 11 am to 5 pm. FMI call 207-967-0049. Kinkead's show can be viewed online beginning Wednesday, July 20th at www.maine-art.com/shows.