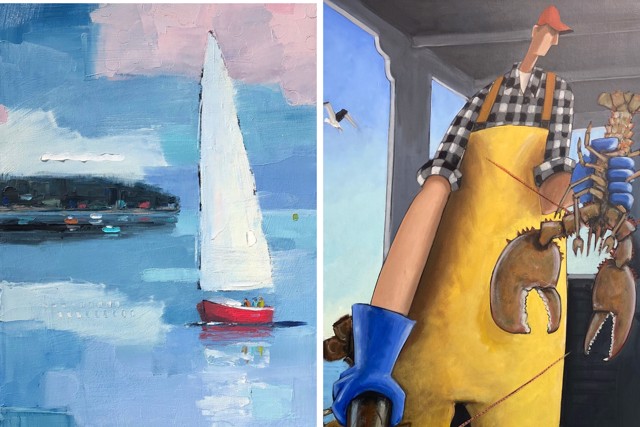 The third Try is the Charm
August 27 – Sept 15
Shows on Maine Art Hill
10 Chase Hill Rd, Kennebunk, Maine
This two-person show is closing out the 2022 summer season for Shows on Maine Art Hill. This is the third time these two talented artists are showing together. The first two were so successful and were such a great pairing we couldn't help but do it again. So if you plan to be in or around the Kennebunks for Labor Day weekend or into September, add this colorful Maine-centric show to your schedule.
Both artists have been with Maine Art for more than a few years, and their works are in demand year-round. We carry a wonderful selection from each at our main gallery on 14 Western Ave in Kennebunk, if you can't wait until the end of summer to get in on the fun.
Below is a little bit about each artist and links to learn more about them and see what works we currently have. The Gallery on 14 Western Ave is open Thursday to Monday from 10-5 during February and check back for more hours as the weather warms up. When in doubt, please call 207-967-2803 or email [email protected] for more information.
Bethany Harper Williams, an oil painter who splits her time between New York, and Biddeford Pool, continues to capture the beaches and harbors at their very best.
"I love the Maine landscape and all it has to offer, from a physical perspective as well as a visual perspective," says Harper Williams. "The beautiful beaches and water provide us an area to play and create wonderful memories. They also provide me with the inspiration to capture these memories and make them last forever."
Witbeck has exceptional talent, a unique eye, and unconditional love for coastal life. His canvases are full of characters from working fishing villages and harbor towns. He captures the fabulous personality of the lobsterman and the sarcastic sass of the seagull while maintaining the charm and appeal of New England. He has an appreciation for their hard work and their humor. "I'm most pleased when my paintings evoke smiles. Humor is an element too often missing in art," says Witbeck. Living and working the Maine coast takes a sense of humor.  This is evident in the subjects of his paintings.