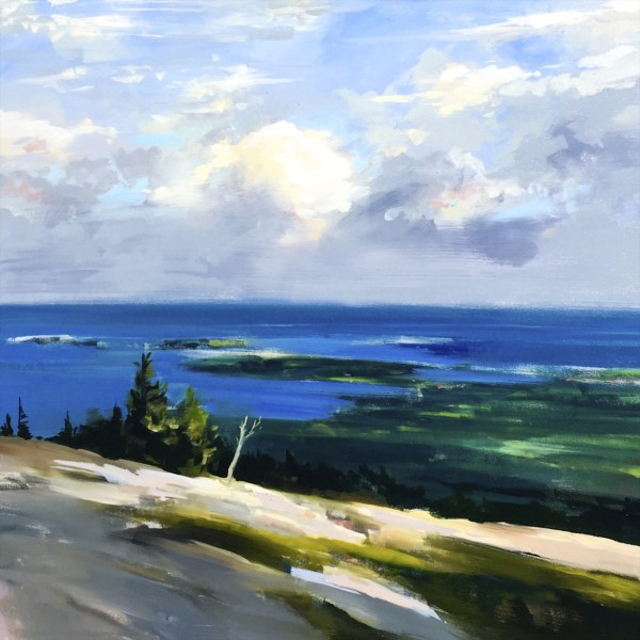 Sep 26, 2015 - Oct 23, 2015
It's important to take a step back, take a deep breath and truly embrace the beauty surrounding us. In this new show, this is exactly what Craig Mooney has done. "From A Distance" is that step back. This is a show filled with new works and new perspectives on his classics. If you are already in love with Craig Mooney's work, you will be amazed at what he has created. If this is your first experience, you are in for a treat.
When "From A Distance" was in its early stages, Craig connected with the theme. "It is necessary to put distance between you and the work," says Mooney. "I have to stand back. Right up close, it just doesn't make sense. It's just blobs of paint. The distance is necessary to really see the whole picture." Strokes of blues and greens come to life and become the ocean as we step back. Paint produces emotion. It breathes life.
Craig has been lucky enough to experience places where skies change from orange to pink to blue in the course of a day; where seas reflect dark and grey, and in just a moment change to crystal blue; and where land, sky and ocean converge to produce a perfect contrast of nature. These places are familiar to us. We live here. We have created memories here. "Before this show, I went back over the last ten years," says Craig. " I discovered the paintings where people felt connected. Over and over, it was the sky and the sea." It was these works that Craig revisited, creating new and original pieces that hold the same familiar feeling - a feeling we are just not quite ready to let go.
The show runs from September 26 - October 23. You will find Craig's work on the first floor of Maine Art Paintings and Sculpture at 14 Western Avenue in Kennebunk. Consider this your invitation to come in, step back, take a deep breathe and enjoy.