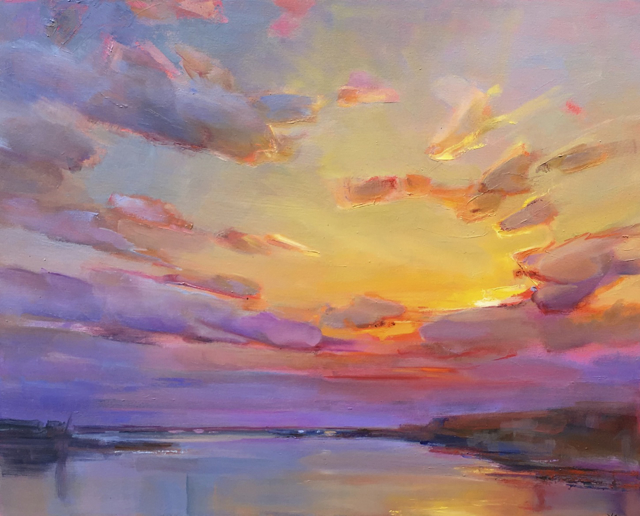 Jul 02, 2016 - Jul 21, 2016
The show will open at 11:00 a.m. this Saturday, July 2 at Maine Art Shows. Join us for the Artist's Reception from 5 - 7 p.m. on Saturday evening.
Maine is famous for seascapes, skies and sunlight, and no visit to the coast is complete without them. This month, Maine artist Holly Ready and Maine Art Shows celebrates all three with an upcoming show at 10 Chase Hill Road in Kennebunk. This one-woman show of Ready's most recent work features the amazing skies of Maine. We open Saturday, July 2 and run through Thursday, July 21. We will kick off the show with Ready's Artist Reception from 5pm – 7pm on Saturday, July 2.
Ready grew up in Massachusetts, but summered here in Maine. As so many do, she fell in love with the state, and it wasn't long before she began calling it home. In the middle of raising her family, Ready decided to take her painting to a new level and began classes at Maine College of Art in Portland.
"I have always painted. I come from a long history of painters with a grandmother who fostered that growth with gifts of canvas and color," says Ready. "My first painting was a seascape. I loved painting the water. There were times I made the canvas sing. The problem was I didn't know how I made it sing. It was intuitive. It wasn't until art school that I began to understand the process behind the magic."
For Ready, art school was later in life, not a career. She only went part-time, but it was an escape. The early classes were sometimes frustrating for her; after all she was there to paint.
"I was a painter. I wanted to paint. By the time I declared my major, it all came together like a puzzle," says Ready. "On top of classes and skilled professors, I had an incredible cohort. I learned so much from them."
Ready is not new to Maine Art Shows. She has participated in multiple group shows over the years, the most recent being Maine. As They See It. last August. Each show has been a collection of works from a variety of artists in the area culminated around a particular theme.
John Spain, owner of Maine Art Shows, says, "I have admired Holly's work for several years. I have happily included her in multiple shows. I have been trying to convince her for quite sometime to join us for a solo show." This year everything fell into place. "Finally," he says, "the stars have aligned, or maybe in Holly's case it's the clouds?"
Clouds are a strong feature in much of Ready's work, as in Coastal Cottages. The play of light and shadow in the sky grabs the viewer's eye. She prefers working from warm to cool to produce the 'sing' she refers to often. Composition is key, and she is very aware of her percentage of earth versus sky. After that, she claims the paint dictates and the color happens. With her landscapes and seascapes, the colors flow beautifully and her skies certainly do sing.
"It's all about the feeling. It's a serenity. It changes, but each of them has a peace," says Ready referring to her collection for July's show. "I like when art doesn't give all the answers. These works have a time and a place. They are grounded, but the details are for the viewer to fill in."