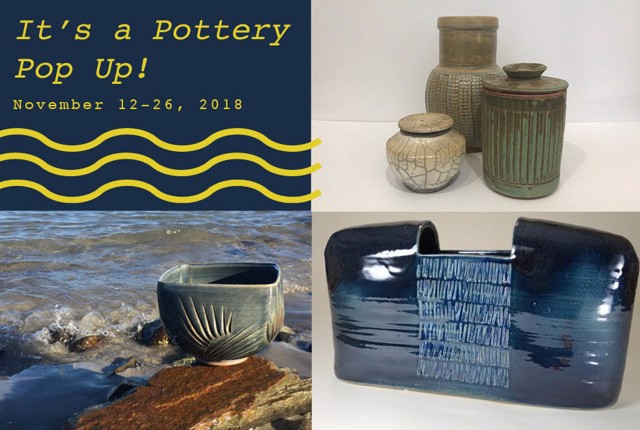 Nov 09, 2018 - Nov 26, 2018
A show of sculptural and functional ceramic works by 3 local Maine artists. An artist reception will be held Saturday, November 17th from 5-7PM

Kevin Keiser hails from Ohio but honeymooned in Kennebunkport 40 years ago and has been back with his wife every year since! He summers in Moody and will be moving there full time in a year or two. Keiser creates "vessels" inspired by nature and his beach walks in Maine. These sculptural pieces are not necessarily intended to be functional but can be. Keiser is represented by Maine Art Hill and his pieces can found at The Works Gallery year round.

Brendan Roddy teaches Fine Art at the Middle School of the Kennebunks as well as courses at River Tree Arts. Roddy creates hand-built and wheel thrown ceramic work inspired by "all things water and ocean related". His work is both sculptural and functional, inspired by the movement, texture and forms of the ocean.

Richard Winslow is a potter from Waterboro specializing in functional works using earthy glazes and various textures. He is a member of the Society of Southern Maine Craftsmen.