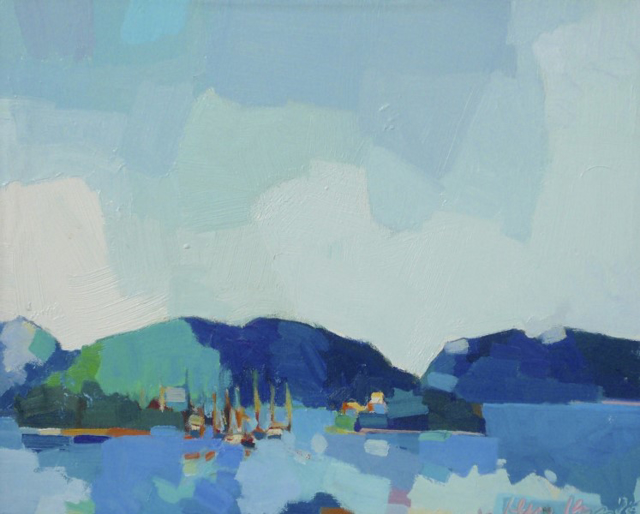 Nov 27, 2015 - Dec 31, 2015
The holiday season is in full swing in the Kennebunks. The streets and businesses are all decked out for the season. The lights are twinkling, the frost is forming, and the shopping has begun. Even though Christmas Prelude doesn't officially begin until December 2nd, and the tree lighting won't happen until Friday the 4th at 5:30, we here at Maine Art Paintings and Sculpture will be ready and waiting for all of you early birds.
Our Holiday Show opens Saturday, November 28th and closes at 1 p.m. on December 31 at Maine Art Paintings and Sculpture on 14 Western Ave, Kennebunk, Maine. We will have the entire first floor of the gallery dedicated to works that are 20" by 20" or smaller. Each makes the perfect holiday gift or wonderful addition to your home as you celebrate this season. We have nearly twenty artists participating, many of which created new works for this show specifically.
Our Artist Reception will take place on Friday, December 11th during the Village Art Walk from 5 – 7 p.m. As of right now, we know we will be joined by Henry Isaacs, Philip Frey, Janis H. Sanders, Karen McManus, Jeffrey T. Fitzgerald, Susan Wahlrab and Liz Hoag. This is a lovely opportunity to chat with these talented artists about their work. Of course our amazing in-house caterer, Donna Speirs, will be preparing some yummy treats to share. We will also have hot cocoa, wine and beer available for any and all that stop in.
For those of you that are in town, please take the time to wander over and take a peek at this collection. However, if you can't make it in before the holidays and the show comes to a close, not to worry. The on-line show, which will be live this Friday afternoon, will feature a selection of works from the show.